By Radley Balko March 11
If you haven't been paying attention, Orange County, Calif., is in the midst of a massive scandal involving the district attorney's office and the use of informants. DA Tony Rackauckas and his staff have been berated by judges (one of whom recused the entire office from a murder case), had convictions overturned and even let accused killers go free rather than disclose how they use informants. It's a massive scandal and ought to be national news.
Most of this mess was uncovered by OC Weekly reporter R. Scott Moxley and public defender Scott Sanders. But recently, another defense attorney, James Crawford, won a big victory over the DA's office in a case related to the ongoing snitch scandal. Then, this happened:
James Crawford, a criminal defense lawyer who recently defeated the Orange County district attorney's office (OCDA) in a major case tied to the region's ongoing jailhouse informant scandal, claims an OCDA employee assaulted him on a 10th floor courthouse hallway this morning.

Crawford's swollen face and bloody shirt resulted after one of DA Tony Rackauckas' investigators "pummeled" him in the midst of a brief, terse exchange about who was more sleazy: defense lawyers exposing the systematic cheating involving jailhouse informants or prosecutors and police who've repeatedly violated constitutional rights and hidden evidence to win convictions.

According to Irvine-based lawyer Jerry Steering, who is representing Crawford, the investigator, whose identity the Weekly is not publishing until it's officially confirmed, grabbed his client, knocked him to the floor, jumped on him and then "punched him at least 10 times in the face" before officers in the courthouse pulled him away.

"This guy socks him and knocks his socks off," said Steering, who specializes in pursuing police corruption cases and plans to file a civil lawsuit.
You can see a photo of Crawford's battered face here.
Here's more, from the Los Angeles Times:
Jerry Steering, a lawyer representing Crawford, said his client was in the courthouse to represent a woman who was subpoenaed to testify. The D.A.'s investigator was assigned to watch over the woman, he said.

When Crawford approached his client, the investigator disparaged defense attorneys as "sleazy," Steering said. Crawford replied that defense attorneys were no worse than the Orange County district attorney's office, which has been mired in an ever-widening scandal over the use of testimony from inmate informants.

As Crawford walked away, the investigator flicked a large paper clip at the lawyer, Steering said. Crawford then tossed the clip back toward the investigator.

"The investigator then grabs [Crawford's] head and slams it into the bench and then punches him like 10 times in the face and head," Steering said, adding that sheriff's deputies and officers from the Santa Ana Police Department had to remove the investigator.
Incredibly, not only has the investigator who pummeled Crawford bloody not been criminally charged, we don't even know his name. Rackauckas won't release it. Here's a statement from his office.
The Orange County District Attorney's Office (OCDA) has received inquiries about an OCDA Investigator's employment status in regards to the courthouse incident yesterday, March 9, 2016. The California Employment Law and The Law Enforcement Officers' Bill of Rights require that the OCDA have all the pertinent information into a matter under review before any HR action is taken. The OCDA is waiting on that information, which we anticipate will take several days, in order to make an appropriate personnel decision.

No further information will be disclosed at this time.
There you have it. The "privacy" of cops and state employees means we don't get to know the identity of a DA investigator who smashed a defense attorney's head into a bench, then punched him up to 10 times (allegedly!). For more, er, pointed commentary on this incident, see defense attorneysScott Greenfield and Rick Horowitz.
Interestingly enough, this morning I received an email press release from theAssociation for Los Angeles Deputy Sheriffs, a police union. It seems that California state Sen. Mark Leno has introduced a bill in the California legislature that would revise the current law to make personnel records of police officers public record. The police union, with the backing of the AFL-CIO, is adamantly opposed to the legislation. This is actually the third press release I've received voicing opposition to the bill. Here's an excerpt from one headlined, "Senator Leno to Police Officers 'Privacy? You Don't Need No Stinking Privacy!'"
SB 1286 would change long-established and highly effective state law that has provided privacy for peace officers' personnel files, restricting disclosure to criminal prosecutions where the peace officer is a witness and appropriate showings have been made to a Judge. Proponents want to dismantle this system, making unsubstantiated claims that to do so would improve transparency and accountability and enhance public trust of law enforcement.

The ACLU and State Senator Mark Leno are pushing legislation that would greatly expand the exceptions that apply to investigations or proceedings conducted by civilian review agencies, inspectors general, personnel boards, police and civil service commissions, city councils, boards of supervisors and other agencies. It would make police officer personnel records and records relating to sustained complaints against them available to the public.

"SB 1286 singles out peace officers in a prejudicial and discriminatory manner and sets a dangerous precedent for all public employees in California. The bill is unnecessary because existing law provides for accessing police personnel files in appropriate cases,- with safeguards in place that protect officers' privacy. This bill would only serve to facilitate fishing expeditions by criminal defendants and their attorneys, devastate officer morale while eroding trust in law enforcement. State law protects all public employees by ensuring the disciplinary process is not a pubic spectacle," said ALADS President George Hofstetter.
This is nonsense. It amounts to a "just trust us" policy of leaving police oversight to prosecutors and police agencies alone. There are countless examples in which media investigations or investigators working for defense attorneys or attorneys in civil litigation have uncovered past abuse, deficiencies in training and other problems never cited when that officer was cleared by a DA or internal affairs investigation.
The Orange County story illustrates the folly of these laws.* The investigator alleged to have beaten Crawford works for a DA who has already been reprimanded by a judge, whose office has been reported to have repeatedly lied about its use of informants, and who has widely been accused by defense attorneys of covering up gross misconduct by his staff. The same DA has refused to prosecute cops shown to have lied in these cases for perjury, likely because doing so would implicate people in his office. The incident in question appears to have been an altercation over this very scandal. As the DA, Rackauckas or his office would presumably be the party investigating the incident. We're just supposed to trust that he'll do a fair and thorough job? And if the investigation clears Rackauckas's own employee, just as he has insisted there was no wrongdoing on the part of his staff in the informant scandal, the public could ostensibly never know the investigator's name.
There's a good case to be made for keeping, say, police officers' home addresses out of the public record. But names and disciplinary files? No way. Cops are entrusted with extraordinary power. They can arrest, detain, injure and kill. That sort of power is corruptive. It can only be delegated along with a healthy dose of transparency and accountability. That means that to assume those powers, you have to sacrifice some of your rights, at least while you're on the job. The same goes for prosecutors, who don't have the power to kill, but certainly have the power to ruin lives.
The scandal in Orange County is a disgrace in and of itself. But the outrage has only been compounded by the laws, case law, procedural rules and bureaucracy as well as special protections for cops, informants and prosecutors that have shielded the guilty parties from responsibility and the public from knowing the truth. These protections not only stand in the way of real accountability, but they also can confer an air of untouchability to the people who benefit from them. It's the sort of arrogance that, for example, might lead a DA's investigator to think he can beat a defense attorney bloody for daring to talk back to him.
(*For the record, the head of the Orange County chapter of the deputy sheriff's union suggested the incident was "an effort by a criminal defense attorney to drum up a payday.")
Defense attorney James Crawford, who recently won a victory in a court case connected to the ongoing informant scandal, said he was attacked by a District Attorney's investigator.
By SCOTT SCHWEBKE, SEAN EMERY and TONY SAAVEDRA / STAFF WRITERS
The Orange County Sheriff's Department is investigating a courthouse fight that broke out Wednesday between a District Attorney's investigator and a defense attorney who triumphed over prosecutors in a recent case involving jailhouse informants.
The investigator and attorney got into an argument that turned physical around 10 a.m. in a hallway outside a 10th floor courtroom, Lt. Mark Stichter said. He didn't know what prompted the argument.
But defense attorney James Crawford said he was attacked by a DA investigator he didn't recognize.
"My back was to him and the next thing I know I find my head getting slammed into a bench." Crawford said. "He then proceeded to punch me and pin me into the bench."
Crawford represents Henry Rodriguez, a gang member twice convicted of murder who won a retrial last month in the wake of allegations prosecutors improperly used a jailhouse informant and withheld evidence. The Rodriguez trial is one of six cases that has unravelled in the fallout over Orange County's snitch controversy.
As a result of that ruling, "some in the DA's office had an animus toward Mr. Crawford," said Jerry Steering, Crawford's attorney.
"It wasn't personal," Steering said of Crawford's allegations against prosecutors. "But apparently they don't like him too much."
Crawford said, "They're still angry over us getting a new trial."
The Sheriff's Department did not identify the DA investigator.
The District Attorney's office is cooperating with the Sheriff Department's investigation into the incident, said Roxi Fyad, a spokeswoman for the office.
"When the investigation is complete, the matter will be referred to the California Attorney General's Office for a legal review," she said.
Orange County Superior Court Presiding Judge Charles Margines declined to discuss the altercation.
The incident occurred Wednesday after a judge asked Crawford to assist a woman who received a subpoena tied to a trial in Department C40, Steering said. The woman apparently was being offered a limited immunity deal in return for assisting with a case, he said.
Steering said Crawford, the woman and an interpreter were talking in the courthouse hallway when an unidentified investigator interferred and stated that defense lawyers are "sleazy."
Crawford replied that they are no worse than those in the District Attorney's office caught up in the jailhouse informant scandal, Steering said.
Crawford began walking away, Steering said, when the investigator threw a paper clip at him.
"This sounds like a 7th grade squabble," Steering said. "My guy turns around and says (an expletive) and (the investigator) just grabbed him and started slamming his head into a bench."
Steering said Crawford didn't throw any punches. Several nearby officers broke up the altercation.
Tom Dominguez, president of the Association of Orange County Deputy Sheriffs, said in a statement there were many witnesses to the altercation and that Crawford's "one-sided version is simply not true."
Among the personnel represented by the association are District Attorney's investigators.
"A careful investigation will reveal the true facts. We are cooperating fully in that investigation and we look forward to the actual facts being released publicly," Dominguez said.
Crawford, who suffered a head wound, plans to file a lawsuit against the county, Steering said.
"I've seen inmates beat up in a courthouse, but I've never seen a DA's investigator beat up a lawyer," he said.
Neither the investigator nor the attorney were taken into custody or transported to a hospital for injuries, Stichter said.
Contact the writer: 714-796-7767 sschwebke@ocregister.com Twitter: @thechalkoutline
—————————————————————————————————————————————————
Riverside man files $10M civil lawsuit against San Diego County sheriffs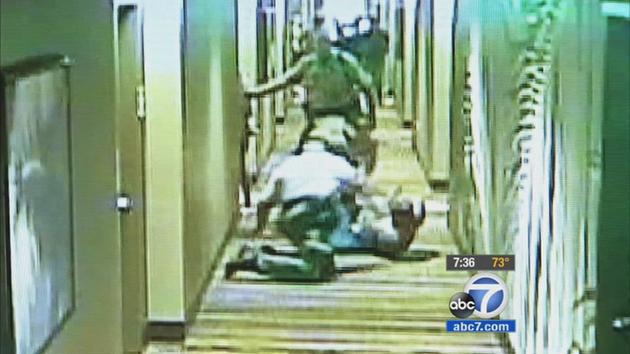 A Riverside man filed a $10 million civil lawsuit against the San Diego County Sheriff's Department after his attorney said he was severely beaten at the Harrah's Resort Casino in Valley Center.
RIVERSIDE, Calif. (KABC) –
A Riverside man filed a $10 million civil lawsuit against the San Diego County Sheriff's Department after his attorney said he was severely beaten at the Harrah's Resort casino in Valley Center.
Attorney Jerry Steering said surveillance video, which he shared exclusively with Eyewitness News, speaks for itself as well as pictures of his client's injuries.
Jovan Jimenz needed 12 staples to the top of his head after the suspected beating.
"He's still confused. He still gets terrible headaches," Steering said.
The lawsuit claims on July 12, inside one of the hotel hallways, Jimenez got into an argument with someone else who was staying at the hotel.
Authorities arrived to break up the argument and decided to arrest him, Steering said. The arrest was for misdemeanor battery. The lawsuit continues that sheriff's deputies put Jimenez in handcuffs and were walking him down the hall when he made a rude comment to one of them.
"It was something to the effect of, 'Gee, aren't you miserable? You've got to be working as a policeman now while I'm having fun with all these nice women here in this nice hotel,'" Steering said. "So the officer grabs him by the throat, smashes his head against the wall, slams him down to the floor, kneels down, takes out his flashlight and bashed him over the top of his head."
Eyewitness News contacted the San Diego County District Attorney's Office to find out if there's an active investigation into the actions of the deputy, but the office does not comment on investigations.
We also contacted the San Diego County Sheriff's Department, but it would not comment because of the pending litigation.
___________________________________________________________________
Family Recovers $500,000.00 In Lawsuit Against United States For Death Of Veteran At Veterans Affairs Hospital In Loma Linda, California
Loma Linda, California 
September 29, 2015

The family of a 65-year-old  Vietnam-era Army veteran who grew tired of waiting four hours after his scheduled time for a simple outpatient procedure, has recovered $500,000.00 in a settlement with the United States government for the veteran's death. John Montano, a dialysis patient, attempted to leave the Veterans Hospital in Loma Linda, California with a heplock still in his arm. He had told the nursing staff at 8:00 a.m. that he wasn't going to wait any more than four hours to get his procedure. Mr. Montano had grown tired of waiting unreasonably long for his tri-weekly treatments at the hospital, as are many verterans these days at VA Hospital facilities across the country.
After waiting four hours, Mr. Montano attempted to leave the hospital with a heplock device in his arm; a small plastic disposable item that's used to put fluids and  medicines in patients. When Mr. Montano told the nursing staff that he was tired of waiting and was going to the VA Hospital in Long Beach, he was arrested by Veteran's Affairs Police Officers for disturbing the police; for telling the officers that he was leaving, after they told him that they would arrest him if he tried to do so.
The officers took Mr. Montano down onto the floor, and in doing so, ruptured his carotid artery, that soon resulted in a stoke and in Mr. Montano's death from that stroke two weeks later.Although the government claimed that Mr. Montano's stroke was due to other causes and argued that Mr. Montano had illnesses that gave him a short life expectancy, they nonetheless agreed to the $500,000.00 settlement for the family's Federal Tort Claims Act cases, in which the plaintiffs only get a bench trial rather than a jury trial.
The Montano family is relieved that contentious legal proceedings are over, and that they can now get on with their lives.

—————————————————————————————————————————————————————————————
See below, the $727,500.00 resolution of the Nancy Butano Case; "Donna Reed" Gooned By Orange County Sheriff's Department Deputies For Failing To Immediately Get Off Phone.

———————————————————————————————————————————————————————
County denies fault in case
Victorville Daily Press
APPLE VALLEY • An Apple Valley woman has been awarded a $600,000 settlement in a civil lawsuit against San Bernardino County after a sheriff's deputy shot her while responding to a domestic abuse call in 2012, defense attorney Jerry Steering said.
San Bernardino County spokeswoman Felisa Cardona said the county isn't admitting fault in the case and agreed to the settlement to save legal costs and protect taxpayers from the uncertainties of a trial.
Steering, a Newport Beach attorney, filed a civil complaint against San Bernardino County on behalf of Apple Valley resident Penny Trent in the U.S. District Court for the Central District of California on Dec. 17, seeking compensation for injuries and damages allegedly sustained during the incident.
A bullet grazed Trent's leg, according to a report from the San Bernardino County District Attorney's office.
"Penny Trent was obviously wrongfully shot by Carolyn Chadwell, a deputy sheriff," Steering said.
At 5:13 p.m. on June 3, 2012, San Bernardino County Sheriff's deputies Chadwell and Kirsten Mitchell of the Apple Valley Station responded to a domestic disturbance at a residence in the 12400 block of Kiowa Road.
No one answered the door and the deputies entered the home through an unlocked door. They found Trent and her husband, Wayne Trent, hiding in a bathroom, sheriff's officials said.
Deputies found a large bruise on Penny Trent's arm, and Mitchell arrested Wayne Trent on suspicion of domestic violence, according to the Sheriff's Department. County court records do not show any domestic violence charges filed against Wayne Trent.
Chadwell told investigators she went back into the home to give Penny Trent domestic violence resource information; Chadwell said that woman's behavior had changed and she had a "blank stare" on her face.
Chadwell said Penny Trent was seated on the couch and her hand was hidden under a pillow. The deputy said Penny Trent appeared to become "enraged" as her left arm flexed, and Chadwell thought the woman might be holding a "tool or weapon."
Chadwell said she asked Penny Trent where her left hand was and the woman got up from the couch. The deputy said she never saw Penny Trent's left hand. Chadwell fired two shots, grazing the woman's leg. Paramedics treated her at the scene.
After investigating, the District Attorney's office ruled in June that Chadwell's actions were justified.
"Based on a totality of the circumstances, there is insufficient evidence to prove (Chadwell's) actions were an unreasonable use of force in self-defense," the DA's report stated. "Deputy Chadwell fired the shots to protect herself from what she perceived to be an immediate danger."
Steering referred to a 20-minute audio clip from Chadwell's mini-recorder in which the deputy can be heard asking, "Penny … where's your other arm?" followed by shots within a second of the question being asked. He believes this proves that "the DA's office isn't interested in truth or justice in this case. If there is any evil intent in this case, it is in the cover up."
"No matter what the sheriff's department does, no matter who they hurt, they will never say they are sorry," Steering said. "They will never admit they are wrong."
Calls to Chadwell's attorney of record, Dennis E. Wagner of Wagner & Pelayes in Riverside, were not returned.
Rebecca Howes can be reached at rhowes@vvdailypress.com or at 760-951-6276.
—————————————————————————————————
APPLE VALLEY DEPUTY SHERIFFS ARREST HUSBAND FOR FELONY WIFE BEATING, THEN SHOOT, FALSELY ARREST AND INTERROGATE WIFE, ILLEGALLY SEARCH HER HOUSE, AND RELEASE HER WITH NO CHARGES.
Sheriff's Department also releases husband from custody after his arrest for wife beating, because once police shot wife, they just wanted case to go away.           
On June 3, 2012, at approximately 3:30 p.m. San Bernardino County Sheriff's Department Deputy Sheriffs Carolyn Chadwell and Kirsten Mitchell answered a call for service of
a
husband beating his wife at their home at 12486 Kiowa, Apple Valley, California [1]. The deputies received no response to their knocking on the Penny and Wayne Trent's door, so they entered the house and found Penny Trent and her husband partially undressed in the bathroom [2].  Rather than leave the residence once the welfare of the residents was confirmed, Deputies Chadwell and Mitchell interrogated them about the call for service (i.e. the domestic violence call.) After discussing the incident with Penny and Wayne Trent, the Deputies decided to arrest Mr. Trent for felony corporal injury on a spouse (Penal Code Section 273.5), handcuffed him and put him in their patrol car.
When the deputies took Mr. Trent out to the patrol car to go to jail, they told Penny Trent
to have a seat in the living wait in the living room, and they'd be right back. Deputies Chadwell and Mitchell placed Mr. Trent into the patrol car, and Deputy Chadwell returned to the residence with a Marsy's Victim's Card [3]; the brochure that is given to Domestic Violence victims [4] by police officers.
When Deputy Chadwell returned to the door of the home with the Marsy's Card for Mrs. Trent, she saw Penny Trent sitting on her living room couch. The couch appears at an angle to the front door area (See below, photo of view of couch from front door.) Deputy Chadwell apparently could not see one of Penny Trent's lower arms when she saw her and stated to her: "Penny;
where's your other arm." In literally less than one second after asking that question, Deputy Chadwell shot Penny Trent twice in her left leg. Although the bullets grazed her leg, Penny Trent was horrified from being shot, and at a complete loss as to why Deputy Chadwell would shoot her. This is all audio recorded [5]; a copy of the audio shown below.
Deputy Chadwell claimed that she shot Penny Trent because when she reentered the Trent residence, she saw Penny Trent with a blank stare on her face and said that Mrs. Trent's hand was under a couch pillow. Mrs. Trent's hand was just resting on the pillow on the couch, but from the front doorway area, Deputy Chadwell could only see her right hand. Deputy Chadwell didn't give Mrs. Trent a chance to respond to her question, or to show her left arm. She just shot her within one second of asking her where her left arm was. Neighbor witnesses told the Sheriff's Department that Deputy Chadwell then broke-down and cried about having shot Mrs. Trent.
Immediately after Deputy Chadwell shot Mrs. Trent, Deputies Chadwell and Mitchell ordered Penny Trent to exit her residence, and when she did, the deputies threw her to the ground on the rock front lawn, handcuffed her and placed her into their patrol car; imprisoning her there.
Audio recording by Deputy Chadwell of the June 3, 2012 shooting incident (the shooting takes place at 17 min. 02 sec. of the audio recording.)
Audio Recording of June 3, 2012, Shooting Incident
SBSD Interview of Deputy Chadwell 6-8-13 – 5 days after shooting

SBSD Interview of Deputy Chadwell 6-8-13 - 5 days after shooting.
Audio recording by Deputy Mitchell of the June 3, 2012 incident, showing illegal arrest of crying innocent domestic violence and police shooting victim Penny Trent. 

Audio recording by Deputy Mitchell of the June 3, 2012 incident, showing illegal arrest of crying innocent domestic violence and police shooting victim Penny Trent.
Click here to view entire SBSD Officer-Involved-Shooting Investigation Report of Penny Trent Shooting
Thereafter, several Sheriff's Department supervisors and other officers came to the Trent residence and decided what to do with Mrs. Trent [6]. After discussing the shooting of Mrs. Trent with each other, the Sheriff's Department then conspired to take Penny Trent to the Apple Valley Station, so they could interrogate her in a coercive manner [7]; to try to get her to say something to try to justify their shooting of her [8] (she never did.) It's a federal crime and federal constitutional violation to take a person to the police station for questioning, without probable cause to arrest them (Hayes v. Florida, 470 U.S. 811 (1985)). That's just what they did to Penny Trent, and it's shown on the recording shown below.
Notwithstanding Mrs. Trent's repeated requests to leave the station, the Sheriff's Department investigators kept Penny Trent at the station. They even created police reports showing that a crime had occurred (i.e. Cal. Penal Code § 245; assault with a deadly weapon), that Penny Trent was the "suspect" of the shooting, and that Deputy Chadwell was the "victim". The geniuses at the Sheriff's Department did a gunshot residue test on Penny Trent, even though she was the one shot. Even worse, the investigators at the Apple Valley station made Penny Trent undress down to her underwear, to take photos of any marks or bruises on her; supposedly for the criminal case against Mr. Trent.
Moreover, to add insult to injury, the Sheriff's Department (Investigator Robert Thacker) unlawfully obtained a search warrant for the search of Penny Trent's house, and used the bogus pretense of a criminal investigation, to perform their civil liability investigation. This was the Sheriff's Department's only chance to inspect the premises, as police officials cannot obtain a search warrant to do civil liability investigation; only to investigate crimes. Therefore, the Sheriff's Department had to misrepresent the purpose of their application for a search warrant to Judge Stanford Reichert; claiming that their search would reveal evidence of a crime (the only crime really being Chadwell's shooting of Penny Trent.)
Eventually, in the early morning hours of June 3, 2012, the Sheriff's Department drove Mrs. Trent home after they were done with their illegal search of her residence.
Although ever since O.J. Simpson decapitated his wife "Domestic Violence" seems to be the worst crime that one can commit, because the Sheriff's Department shot the domestic violence victim (Penny Trent), when they took Mr. Trent to the hospital that same evening, they posted no guard in / at his hospital room, and actually let him "escape." To date, no criminal charges have been filed against Mr. Trent, because the Sheriff's Department can't prosecute Mr. Trent without publically implicating themselves in shooting the very victim of that crime.
None of this is surprising, save the actual shooting itself. Police agencies typically arrest the victims of their outrages, and in the coercive atmosphere of custodial interrogation, attempt, and often succeed, in getting their victims to make statements against their interest; statements that "spin" the facts or otherwise somehow shift all or part of the blame to the citizen – victim. This is normal, notwithstanding it being obvious to any peace officer that it's unlawful to take someone to the police station for questioning in the absence of probable cause for their arrest. See, Hayes v. Florida, 470 U.S. 811 (1985.) The ends that the San Bernardino County Sheriff's Department will go to, to protect themselves from civil liability is incredible.
Moreover, although the Sheriff's Department just couldn't keep themselves from illegally taking Penny Trent to the police station in handcuffs (i.e. false arrest, kidnapping civil rights criminal violations), because they screwed up and shot the victim that they were there to save, they need to get a coerced and skewed statement of what happened. They need to get Penny Trent to the station there and now, even though they had no right to have done so, because the coercive environment of police interrogation, allows the cops to shape the story, and to get you to agree with statements that are not true and that are against your interest, because after that moment in time, you are going to not be so vulnerable, and will likely have a lawyer.
Notwithstanding all of that, the Sheriff's Department didn't get an actual formal statement from Deputy Chadwell, until five days after her attempt to kill Penny Trent; an audio copy of her interview being below and playable.
Moreover, the San Bernardino County District Attorney's Office is actively aiding the Sheriff's Department's efforts to falsely arrest and to literally frame the victims of their misconduct, by the recent establishment of a division of that agency known as "CAPO"; Crime Against Police Officers. See, Inland Empire Weekly, June 20, 2013; "Contempt of Cop? San Bernardino's new prosecution unit aims to assist law enforcement in court—supposedly". CAPO has only one purpose; to protect police officers and their employing agencies from civil (and often criminal) liability, by forcing the victims of police beatings, false arrests and other outrages, to plead to crimes that don't exist; even if the face of the police report fails to show that a crime was committed. Shocking? Not to those in the know.
Jerry L. Steering has filed a federal lawsuit for Mrs. Trent in this matter; Penny Trent v. County of San Bernardino, et al; United States District Court, Central District of California (Riverside); Case Number EDCV 12-02221-VAP (DTBx) (United States District Judge Virginia A. Phillips.)
---
Orange County Pays $727,500.00 To Settle Civil Rights Lawsuit
Orange County Register
January 20th, 2014, 5:02 p.m.
Posted by Tony Saavedra
South County woman said deputies stormed her house, jailed her and seized her children because she wouldn't come to the door.
The county has paid $727,500 to settle a civil rights lawsuit by a South County woman who accused sheriff's deputies of storming her house, slamming her face into the ground, taking her to jail and seizing her children – all because she refused to answer the door.
Nancy Butano's lawsuit – stemming from her arrest Feb. 2, 2010, inside her home in San Juan Capistrano – is one of a series of excessive force complaints against South County sheriff's deputies that have cost Orange County taxpayers more than $5.7 million in settlements and verdicts in the past four years.
County officials say this case provided some lessons for the Sheriff's Department. The department has retrained deputies to be more cautious when entering homes without warrants. Additionally, the department ended its longtime practice of automatically jailing people picked up on suspicion of resisting arrest instead of citing and releasing them.
"Has the department gotten better at holding people accountable? The answer is yes," said Steve Connolly, the head of the county's Office of Independent Review, which monitors the Sheriff's Department. "The department has come a long way in terms of using these litigation issues as a basis for examining its practices and identifying shortcomings."
The 2010 incident began when deputies Charles Stumph, Cory Martino and Alexandra Flores were called to the home on Via Ordaz after neighboring gardeners complained they were threatened by a man with a knife, according to a case summary by U.S. District Judge Cormac Carney.
The deputies identified the suspect as Butano's boyfriend, veterinarian Paul Luddy, and arrested him after he stepped out of the house. He did not have the knife with him, said court papers.
Stumph and Martino returned to the open door and heard Butano speaking on a wireless telephone. They called her to the door, but she declined, saying she was on an important business call. The deputies continued urging her to come to the door. And she continued to refuse.
In her lawsuit, Butano said the deputies entered the home, shouting, cursing and telling her to get off the telephone. She told them that she did not invite them in and did not want them there.
Stumph grabbed Butano, described as 35 years old and 120 pounds, and they both ended up going out of the home's open sliding glass door into the back yard, court papers say. She said the deputy slammed her head against an outdoor sauna and smashed her face five times into the ground while handcuffing her, his knee on her back.
In court documents, the deputies said they entered because they feared that evidence – the knife – was being destroyed or hidden, one of the conditions allowed for warrantless entry under Fourth Amendment search and seizure laws. The deputies also said they were concerned with the safety of the children, given the missing knife.
As deputies escorted Butano outside to a patrol car, a neighbor asked why she was being arrested. Stumph replied, "She's a bitch … she wouldn't go with the program," said the court summary.
Butano's two 18-month-old toddlers were taken from their strollers and sent to Orangewood Children's Home, where they were kept for six days.
Butano was held for one day until she posted a $500 bail bond, although by law she was eligible to be cited and released.
The jail – at the time – by practice incarcerated those picked up for resisting arrest for as long as possible to punish speech critical of law enforcement, according to interviews and court records. Lt. Jeff Hallock said all misdemeanors are now being reviewed for their eligibility to be cited and released.
Deputies searching the home found the knife, as well as a handgun, crossbow and shotgun, court records say.
No charges were filed against Butano, but she was accused in juvenile court of abandoning her children because of the arrest.
Butano's attorney, Jerry Steering, said she ultimately moved to Oregon.
"This case shows how poorly trained OCSD deputies are," Steering said. "And how creepy the Sheriff's Department is regarding requiring persons arrested for misdemeanor crimes against peace officers to post bail, when (state law) provides (citing and releasing)."
The most expensive South County excessive force complaint came from the family of Marine Sgt. Manuel Loggins Jr., who was shot to death by a deputy Feb. 7, 2012, inside his GMC Yukon while his two young daughters sat in the back. Loggins was unarmed and his only crime appeared to have been attempting to drive away from a deputy who confronted him after he crashed his truck through a gate barricading a parking lot at San Clemente High School.
The county agreed last year to pay $4.4 million to settle the case.
In an incident similar to Butano's case, an Orange County jury awarded $259,000 to a Mission Viejo woman named Toy White in 2010 after she alleged that deputies stormed into her house, threw her to the floor and blackened her eye after she refused to surrender her Old English sheepdog to animal control.
The dog was accused of biting a trespasser in White's back yard (although White always denied that any bite had occurred). White had wanted to quarantine her dog inside the house, as allowed by law, but the deputies broke into her house and arrested both her and her dog. She was never charged with any crime. The county also had to pay for White's legal bills and court costs. The total amount was $449,000.
Contact the writer: tsaavedra@ocregister.com or (714) 796-6930
———————————————————————————————————
RULING BY NINTH CIRCUIT COURT OF APPEALS HOLDING THAT ITS NOT A CRIME TO STRIKE AN OPOSSUM WITH A SHOVEL IN CALIFORNIA, RESULTS IN $400,000.00 FALSE ARREST AWARD TO ANAHEIM FATHER AND SON
December 6, 2012
Anaheim, California
A ruling by the Ninth Circuit Court of Appeals holding that California law does not criminalize the striking of opossums, has resulted in a $400,000.00 award from the City of Anaheim, to Anaheim resident Lorenzo Oliver and his teenage son.
——————————————————————————————————————
Neil Chayet, Looking at the Law, Possum Impossible
Neil Chayet, Looking at the Law, Possum Impossible, Broadcast on CBS Oct. 16, 2012
Broadcast of October 16, 2012, on CBS News
---
On March 10, 2008, Lorenzo Oliver and his then 12 year old son, were arrested by Anaheim Police Department officers for Animal Cruelty, and for being an accessory to the same. The APD officers claimed that the boy had struck an opossum with a shovel, and that when his father, Lorenzo Oliver, was asked by the police if his son had done so, he told them that he didnt know, because he was walking away when the shovel striking supposedly happened. The police claimed that this made Mr. Oliver an accessory, by denying knowledge of the suspected crime. In fact, eye witnesses confirmed that no one hit the opossum with any shovel, and that the opossum was injured and bloody from being chewed-up by the Olivers two American Bulldogs in their backyard.
After Mr. Oliver posted a $20,000.00 bail bond, the Anaheim Police Department issued him a Certificate of Release that stated that Mr. Olivers arrest was as a Detention only, as there were . . . insufficient grounds for making a criminal complaint against him."
Thereafter the Olivers, represented by Newport Beach Civil Rights lawyer Jerry L. Steering, sued the City of Anaheim and the APD officers for false arrest.
On February 23, 2011 United States District Judge Cormac J. Carney dismissed the Olivers lawsuit; holding that the APD officers were entitled to qualified immunity from the Olivers lawsuit, because the California Animal Cruelty statute[1] was so vague, that a reasonably well trained police officer could have believed that striking an opossum with a shovel violated that law.
On August 1, 2012, the Ninth Circuit Court of Appeals reversed Judge Carneys award of summary judgment, holding that The officers had no probable cause to arrest C.B. and Oliver because the act the officers believed C.B. committedtrying to kill the opossum by hitting it with shovelisnt a crime.Thereafter, Olivers obtained $400,000.00 from the City via acceptance of an Offer of Judgment. The Olivers lawyer, Jerry L. Steering, believes that $100,000.00 per hour for the Olivers arrests is adequate restitution to his clients. Moreover, according to Mr. Steering:
"Rather than receiving kudos for trying to save the mother opossum from their American bulldogs in their backyard, Mr. Oliver and his son were portrayed in the local and national media as monster opossum bashers. When Orange County Animal Care Services refused to come to the Oliver home to help the mother opossum, Mr. Oliver and his son put a laundry basket over the opossum and pushed it out to their driveway, to get it away from their bulldogs. Once out front, the son grabbed a shovel to flip over the basket to let the opossum go. The chewed-up opossum, flung her bloodied babies (Joeys) about and scurried away under a neighbors car. When another neighbor saw the opossum and her Joeys, bloodied and mangled, he assumed that the son must have struck the opossum with the shovel that he saw him holding, and told the police that he did. However, any reasonable police investigation would have shown that the son did nothing of the sort."
Moreover, even if the police had reasonable grounds to have believed that the son did hit the opossum, their rationale for arresting Mr. Oliver belies reason. According to Mr. Steering:
When Mr. Oliver was questioned by Anaheim Police officers about the neighbors allegations about his son, he told them that he did not know if his son hit the opossum with the shovel, because he had walked away after the laundry basket had been flipped over. For that, the Anaheim Police officers arrested Mr. Oliver for being an accessory after the fact; for covering for his son. This is pure madness. If one could be arrested for telling the police that one didnt see another commit an act, we should all carry our bail bondsmens business cards with us.
Oral Arguments before the Ninth Circuit Court of Appeal
Oliver v. Anaheim Oral Arguments at United States Court of Appeal, Ninth Circuit, July 13, 2012
LAW OFFICES OF JERRY L. STEERING
---
[1] Californias Animal Cruelty statute, Cal. Penal Code 597, provides in pertinent part:
597. (a) Except as provided in subdivision (c) of this section orSection 599c, every person who maliciously and intentionally maims, mutilates, tortures, or wounds a living animal, or maliciously and intentionally kills an animal, is guilty of a crime punishable pursuant to subdivision (d).
[2] The twelve year old boy.
[3]While section 597(a) of the California Penal Code prohibits the intentional and malicious killing of animals, section 599c provides, No part of this title shall beconstrued . . . as interfering with the right to destroy . . . any animal known as dangerous to life, limb, or property. Cal. Penal Code 597(a), 599c. Regulations confirm that opossums are dangerous by explicitly permitting their killing. Cal. Code Regs. tit. 14, 472(a). The regulations do prohibit certain ways of killing animals, but hitting them with a shovel is not among them. Cal. Code Regs. tit. 14, 475. Indeed, if section 597(a) were construed as prohibiting the killing of wild opossums, it would impermissibly nullify Californias laws that permit killing them. See Cal. Penal Code 599c; Cal. Code Regs. tit. 14, 472(a). Ninth Circuits Memorandum Opinion of August 1, 2012, p.2
[4] That is for each hour of confinement pursuant to their arrests.
---