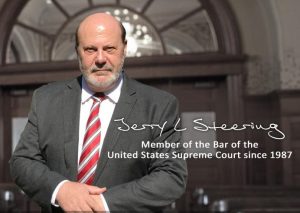 Oceanside Police Misconduct Attorney & Specialist
Don't Get Framed; Get Paid For Excessive Force, False Arrest And Malicious Prosecution.
Jerry L. Steering, is a Police Misconduct Attorney in Oceanside in San Diego County and throughout Southern California, who specializes in Defending bogus Criminal Cases and Suing Police Officers for Violating your Constitutional Rights, since 1984, for Excessive Force, Police Brutality, False Arrest, Malicious Prosecution, K-9 Maulings, Police Beatings & Shootings and Wrongful Death, Concealing or Destroying Evidence and Retaliation. Tel: (949) 474-1849.
Oceanside Police Officers Are Brutal, Dishonest And Know How To Get You Criminally Prosecuted When You Are The Real Victim Of Their Beatings.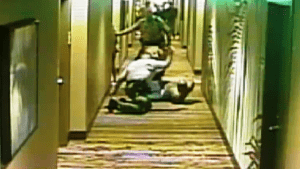 Jerry L. Steering specializes in the area of police misconduct litigation; both criminal and civil. "Criminal" because most of the time when the police beat-you-up or falsely arrest you or otherwise violate your constitutional rights, they usually at least attempt to procure your malicious criminal prosecution, to protect themselves and their pals and employing agency from civil liability. "Civil" because Mr. Steering sues the police for beating-you-up or falsely arresting you or otherwise violating your constitutional rights.
Mr. Steering has litigated police misconduct cases in federal court in San Diego (the United States District Court for the Southern District of California) for many years now. He has been suing police officers for violating the constitutional rights of others for over thirty years. Mr. Steering has had some recent high profile police misconduct cases in San Diego County. Mr. Steering has had several criminal and police misconduct cases in Oceanside, California. Oceanside Police Department officers have a terrible reputation for violence and false arrests; a well deserved reputation.
POLICE BRUTALITY IN SAN DIEGO COUNTY.
Police Brutality in San Diego County is Rampant and growing by the day. Politicians (including judges) and the public, sitting as jurors, are very sympathetic to the police; especially in San Diego County. San Diego County is a difficult venue if you are falsely accused of some resistance offense against a police officer or are trying to sue one.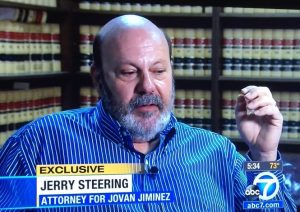 In Jovan Jimenez v. County of San Diego, Mr. Steering recovered $500,000.00 for a man from Riverside County who was beaten by San Diego County Sheriff's Department Deputy Sheriff's for verbal protest of his misdemeanor simple battery arrest. Although San Diego County Deputy Sheriff's beating of a handcuffed and helpless Jovan Jimenez, no criminal proceedings were ever brought against the deputy.
The FBI and the United States Attorney's Office in San Diego recommended that Deputy Cruz be criminally prosecuted for his beating of Mr. Jimenez. However, the Trump Administration sent Mr. Steering a letter telling him "We don't prosecute these type of cases anymore."
Mr. Steering also recently represents a retired CHP Officer in U.S. District Court in San Diego who was falsely arrested by the  San Diego County Sheriff's Department for carrying a concealed firearm on a High School campus. He was allowed to do so because he is an Honorably Retired peace officer with a Carry Concealed Weapon (CCW) permit from the CHP. Robert Pitt v. County of San Diego, et al.; United States District Court for the Southern District of California.
Mr. Steering also represents other men in their another case against the San Diego County Sheriff's