Lawsuit targets Oceanside police, Sheriff's Department, which runs the county jails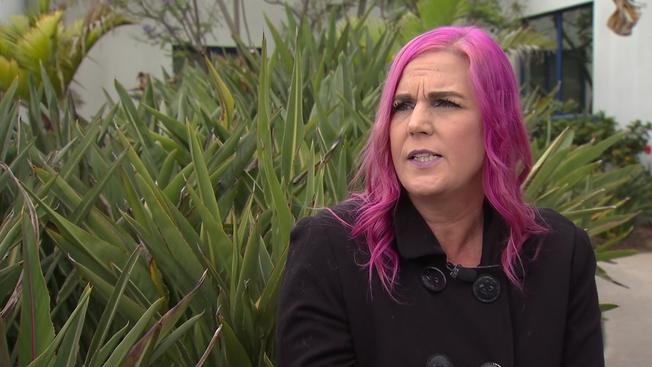 By Teri Figueroa June 28, 2019 4:25 PM OCEANSIDE —
It started with a strange feeling and a headache. Her vision blurred. The spinning started.
Gwen Daigle said she got out of her parked car and then fell to the street. She got up, made her way around the car and fell again, this time on an Oceanside sidewalk, unconscious.
The Carlsbad woman says she came to with police standing over her, one of them pulling her up, telling her she was drunk.
Her right side was paralyzed. It was hard to speak, she said, but she protested. There had been no alcohol.
"I kept telling her (the officer) I needed medical attention, several times," Daigle, 51, said Friday.
Police jailed her that night, Oct. 19, accusing her of public intoxication.
In a lawsuit filed in federal court in San Diego, Daigle says she wasn't drunk. She was having a stroke.
Her suit targets Oceanside and San Diego County for the incident during which she said she was hauled off to a county jail instead of rushed to a doctor.
"Gwen had zero alcohol," her attorney Jerry Steering said this week. "She is an epileptic. She doesn't drink."
Daigle and her attorney say she had been wearing a medical alert bracelet.
Oceanside City Attorney John Mullen said in an email this week that he could not comment on the specific allegations in the suit, which he had not seen. However, Mullen said that Daigle "was evaluated by Oceanside paramedics at the scene and determined to be severely intoxicated and unable to care for herself. Oceanside police and fire personnel acted appropriately."
The Sheriff's Department, which runs the jails, referred comment to the County Counsel's Office. A county spokeswoman said the county does not comment on pending litigation.
The suit alleges several complaints, including civil rights violations, denial of medical care, false arrest, negligence and infliction of emotional distress.
According to the suit, the encounter started about a half-hour before midnight on Oct. 19. Daigle was parked outside of a gym, waiting for someone in her car.
She "started feeling very weird, her vision began to worsen, her head began to hurt and she felt like the world was spinning around her," the suit states.
She tried to use her phone, but couldn't hold on to it. Daigle got out of her car and passed out. Someone spotted her and called 911.
Oceanside officers arrived, Daigle's suit alleges. One of them tried to pull her to her feet. She was handcuffed and jailed.
She's had no memory from there, until the next day when she regained consciousness on a jail cell floor.
Daigle said that, after her release, she walked 1.3 miles to the home of a friend's mother. She said the woman took one look at her and then called 911.
According to the suit, Daigle spent at least three days in the intensive care unit at Tri-City Medical Center.
On Friday, Daigle said she still suffers the effects of the stroke, including constant pain. She said she has trouble with fine motor skills in her right hand, and sometimes it feels like the right side of her body "is going to burn off to the bone." She said she has frequent headaches.