Cal. Penal Code Section 240; Simple Assault: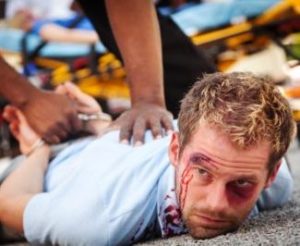 Don't Let The Police Shift The Blame From Them To You For Their Violation Of Your Constitutional Rights.
Assault ON a peace officer is, in the real world, almost always assault BY a peace officer. It is one of those "resistance offenses" that the police falsely arrest and maliciously prosecute the victims of their outrages for. If the police injure you, innocent as you may be, you are going to jail for a crime like Assault on a Peace Officer.
The common-law definition of an "assault" is intentionally placing another in reasonable fear of receiving an imminent violent injury.  the California Supreme Court has decided that it didn't want persons to escape criminal liability for shooting their pistols recklessly, not intending to shoot anyone. Accordingly, the California Supreme Court has deliberately twisted the California statutory definition of the crime of simple assault into a recklessness offense as opposed to an attempt offense.
The California Penal Code defines an assault as:
Cal. Penal Code § 240; Assault.
An assault is an unlawful attempt, coupled with a present ability, to commit a violent injury on the person of another.