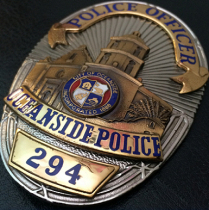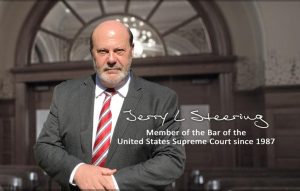 Jerry L. Steering specializes in the area of police misconduct litigation; both criminal and civil. "Criminal" because most of the time when the police beat-you-up or falsely arrest you or otherwise violate your constitutional rights, they usually at least attempt to procure your malicious criminal prosecution, to protect themselves and their pals and employing agency from civil liability. "Civil" because Mr. Steering sues the police for beating-you-up or falsely arresting you or otherwise violating your constitutional rights.
Mr. Steering has litigated police misconduct cases in federal court in San Diego (the United States District Court for the Southern District of California) for many years now. He has been suing police officers for violating the constitutional rights of others for over thirty years. Mr. Steering has had some recent high profile police misconduct cases in San Diego County. Mr. Steering has had several criminal and police misconduct cases in Oceanside, California. Oceanside Police Department officers have a terrible reputation for violence and false arrests; a well deserved reputation.
POLICE BRUTALITY IN SAN DIEGO COUNTY.
Police Brutality in San Diego County is Rampant and growing by the day. Politicians (including judges) and the public, sitting as jurors, are very sympathetic to the police; especially in San Diego County. San Diego County is a difficult venue if you are falsely accused of some resistance offense against a police officer or are trying to sue one.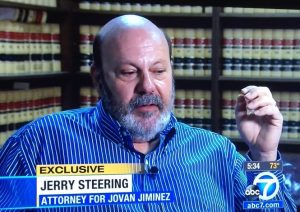 In Jovan Jimenez v. County of San Diego, Mr. Steering recovered $500,000.00 for a man from Riverside County who was beaten by San Diego County Sheriff's Department Deputy Sheriff's for verbal protest of his misdemeanor simple battery arrest. Although San Diego County Deputy Sheriff's beating of a handcuffed and helpless Jovan Jimenez, no criminal proceedings were ever brought against the deputy.
Mr. Steering also currently represents a retired CHP Officer in U.S. District Court in San Diego who was falsely arrested by the  San Diego County Sheriff's Department for carrying a concealed firearm on a High School campus. He was allowed to do so because he is an Honorably Retired peace officer with a Carry Concealed Weapon (CCW) permit from the CHP. Robert Pitt v. County of San Diego, et al.; United States District Court for the Southern District of California.
Mr. Steering also represents other men in their another case against the San Diego County Sheriff's
Department for beating and falsely arresting a totally innocent man who happened to exit a 7-11 store in Encinitas and look at a Deputy Sheriff in the wrong way who harassing others there.
If you believe that police agencies are honest and that police don't do bad things to good people you are still drinking the Kool-Aid. That is not our world anymore; at least not in this Country.
POLICE MISCONDUCT SPECIALIST; SUING BAD COPS AND DEFENDING BOGUS CRIMINAL CASES.
The Law Offices of Jerry L. Steering of Jerry L. Steering specializes in  cases that are both bogus criminal actions (if the DA either believes the falsehoods by the police and files on you), and righteous civil rights actions, that we prosecute to vindicate your honor, your dignity and your injuries; both "general damages" (present and future physical, mental, emotional distress, pain and suffering), and "special damages" (i.e. present and future medical bills, bail costs, attorney's fees, lost wages and other damages that can be calculated mathematically.)
WHAT YOU CAN DO.
Someone has to stand-up to the bullies of society, who think that using state police power to humiliate others, is funny, and makes them big men (or women.) There are thousands of others like you, who are good people, and have been somehow, for some reason that you could not have ever imagined, victimized by the government. It might as well be you. Stand-up for justice. Stand-up for our form of self-government. Stand-up for the spilled-blood of our fathers, who bravery died to prevent the very thing, that the government is doing to you right now.
Click on "Home", above, or the other pages shown, for the information or assistance that we can provide for you. If you need to speak with a lawyer about your particular legal situation, please call the Law Offices of Jerry L. Steering for a free telephone consultation. Also, if you have been the victim of a False Arrest or Excessive Force by a police officer, check our Section, above, entitled: "What To Do If You Have Been Beaten-Up Or False Arrested By The Police".
Thank you again for visiting with us.
Jerry L. Steering, Esq.
What to Do If You Have Been Falsely Arrested or Beaten-up by the Police – Click Here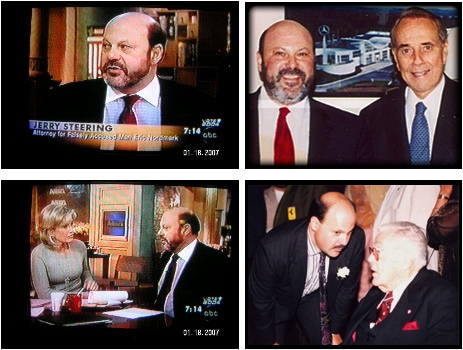 Jerry L. Steering with Diane Sawyer,  Co-counsel* Bob Dole,
and former partner** Melvin M. Belli
Thank you, and best of luck, whatever your needs.
Law Offices of Jerry L. Steering proudly serves the following San Diego County Cities:
Census-designated places
Unincorporated communities
Barrett Junction
Blossom Valley
Canebrake
Del Dios
Fernbrook
Harmony Grove
Oak Grove
Tierra del Sol
Whispering Pines