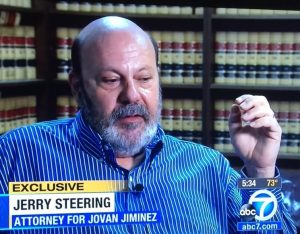 CRIMINAL DEFENSE LAWYER  |  Jerry L. Steering Esq.
Mr. Steering has been practicing criminal law since 1984 (in California since 1986.)
He has tried and otherwise litigated hundreds of criminal cases, including murder cases, manslaughter cases, assault and battery cases, drug possession and drug manufacturing cases, DUI cases, Vehicular homicide cases, white-collar investor fraud cases, sex-offender or drug offender registration cases, violation of court order cases, domestic violence cases, theft and embezzlement cases, towing industry cases, and the general spectrum of criminal violations. Available 24 hours a day (949) 474-1849
Mr. Steering is also a Specialist in Resistance Offense cases like Resisting Arrest (Cal Penal Code 148(a)(1)), Battery on Officer (Cal Penal Code 242/243(b)) and other crimes against police officers.
Criminal Defense Specialties:

Assault and Battery
Battery on Officer
Domestic Violence
Drug Possession
Drug Manufacturing

DUI
Murder
Manslaughter
Resisting Arrest
Sex-offender Registration

Theft and Embezzlement
Towing Industry
Violation of Court Order
White-collar Investor Fraud