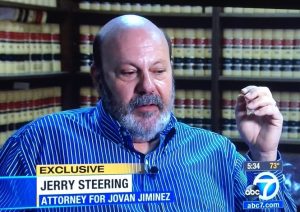 Jerry L. Steering, is a San Bernardino County Police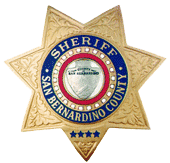 Misconduct Attorney in San Bernardino County , California. Mr. Steering has been suing police officers, and defending bogus criminal cases (mostly bogus crimes against police officers) since 1984.  Mr. Steering represents the victims of "Police Misconduct", such as the victim of the use of excessive force upon and the normal false arrests and malicious prosecutions that very often follow the initial police outrages, very often perpetrated against total innocents.
Mr. Steering's law practice serves San Bernardino County, and the San Bernardino County cities shown below, as well as Ventura County, Los Angeles County, San Diego County, Riverside County,  Orange County, Imperial County and other locations throughout California. Mr. Steering is also licensed to practice law in the State of Georgia and has practiced in federal courts outside of California pro hac vice,  including the United States District Court for the District of Columbia. Mr. Steering is also a Members of the Bars of the Ninth Circuit Court of Appeals, the Eleventh Circuit Court of Appeals and the United States Supreme Court (since 1987).
The majority of Mr. Steering's firm's law practice is defending bogus "contempt of cop" criminal actions, usually followed by Mr. Steering filing and prosecuting lawsuits against the very same police officers who beat-up, falsely arrested and falsely accused the innocent of criminal conduct, to protect themselves and their employing agency from liability to the innocent for their outrages.
Most of Mr. Steering's criminal and civil cases involve core Bill of Rights type issues; the difference between living in a free society of a police state. Most of these federal civil rights cases involve police violation of person(s) fourth amendment rights (i.e unreasonable searches of persons and their places and effects, and unreasonable seizures of person (false arrest and unreasonable force, procuring bogus and malicious criminal prosecutions) and first amendment violations (retaliation for protected speech and to petition for redress and various other "Constitutional Torts" , including police whistleblowing cases (Cal. Labor Code Section 1102.5.)
MR. STEERING'S SAN BERNARDINO COUNTY POLICE MISCONDUCT CASES.
Here are some examples of Mr. Steering's San Bernardino County Police Misconduct cases:
Morgan v. County of San Bernardino, U.S. Dist. Court, Cent. Dist. of Cal. (Riverside), (1996), $714,000.00 jury verdict (included compromised attorney's fees) for excessive force and false arrest during search warrant execution in Apple Valley, California;
Austin v. County of San Bernardino, U.S. District Court, Central District of California, $500,000.00 jury verdict for false arrest and excessive force;
Police Misconduct Specialties:

Excessive Force
Concealing Evidence
Destroying  Evidence
False Arrest

K-9 Maulings
Malicious Prosecution
Police Beatings
Police Brutality

Police Shootings
Whistle Blower Retaliation
Wrongful Death
Lopez v. County of San Bernardino, U.S. Dist. Court Cent. Dist. of Cal. (Riverside) (2002), $50,000.00 settlement for racially motivated battery;
Miller v. City of San Bernardino, et al, U.S. Dist. Court Cent. Dist. of Cal. (Riverside) (2003), $35,000.00 settlement for unlawful detention;
Calderon v. County of San Bernardino, U.S. Dist. Court, Central Dist. of Cal. (Riverside)(2003), $115,000.00 settlement for false arrest and illegal search;
Arroyo v. City of San Bernardino, U.S. Dist. Court, Central Dist. of Cal. (Riverside)(2004), $125,000.00 settlement for unreasonable seizure of person;
Ford v. County of San Bernardino, (2007), $80,000.00 settlement for excessive force;
In re Jane Doe v. County of San Bernardino, et al., (2008), $290,000.00 settlement (prior to filing lawsuit) for sexually motivated mistreatment of arrestee; and
Aubry v. County of San Bernardino, et al, U.S. Dist. Court (LA) 2012, $325,000.00 settlement for the use of unreasonable force and for false arrest.
These "Contempt of Cop cases" are all too common these days as the courts have since 1968, case-by-case, allowed the police to have more and power.  The police can order you around and to do with you what they wish to at their whim.
THE TIMES, THEY ARE A CHANGING.
The police used to need "probable cause" to believe that you committed a crime, to restrain or detain you in any way. Then, in Terry v. Ohio, 392 U.S. 1 (1968) the Supreme Court for the first time reduced the constitution's literal "probable cause" standard, to "reasonable suspicion of criminality affoot", to seize a civilian and search them. Since Terry , it's been all downhill. Terry , was really only, and was only intended to be a "stop and frisk" case. It only gave the police the right to detain someone, because they had reasonable suspicion that the person just commited, was committing or were about to commit a crime, and, that they knew of articulable facts to support a reasonable belief that the person was armed and dangerous.
If you give the police an inch they will take a mile. Although Terry was only a stop and frisk case, the courts quickly used Terry to justify detentions without any suspicion of the civilian being armed or dangerous. Thereafter, pointing guns at suspects, ordering them to the ground, handcuffing persons, using physical force or restraint on persons, became more and more common and accepted by the courts; again because of bad rulings in criminal suppression motion cases.
GUTTING YOUR CONSTITUTIONAL RIGHTS IN THE NAME OF OFFICER'S SAFETY.
These days, the Supreme Court had gutted basic Fourth Amendment "search & seizure" constitutional protections. They have done this because they don't want to suppress incriminating evidence in criminal cases. If the courts find that the police obtain evidence unconstitutionally, since 1961 the states must generally exclude that evidence at trial. See, Mapp v. Ohio,367 U.S. 643 (1961).
Society changes and so do legal standards; standards that even "originalist constitutional advocates" are too proud and to politically committed to their political jingle to admit that 99.9999999% of constitutional law is made up by the courts. The Bill of Rights was ratified by the states in 1791. There is no way that the Our Founding Fathers would have believed that the Sixth Amendment's "Right to Counsel" clause, to include the right to a government paid for free criminal defense lawyer (Public Defender) if you could not afford one. That right wasn't established under 1963 in Gideon v. Wainwright, 372 U.S. 335 (1963).
THE COURT'S HAVE ALLOWED THE POLICE TO ABUSE YOU WITH IMPUNITY AND IMMUNITY.
Thirty years ago if a police officer proned one out on the ground at gunpoint, that officer could not legally do so without having probable cause to believe that the person seized committed a serious violent felony. In these modern times they really don't need anything more than a bare suspicion of any sort of criminal conduct. The court's have excused police compliance with the Fourth Amendment's Probable Cause requirement to seize a person if they claim that it somehow enhanced "Officer's Safety".
That's why the police think that they can order you around and that your failure to immediately comply with their "lawful orders" deserves getting slammed to the ground and beaten, falsely arrested and falsely and maliciously criminally prosecuted.
THERE IS NO SUBSTITUTE FOR EXPERIENCE.
Defending bogus Criminal Cases and Suing Police Officers for Violating your Constitutional Rights since 1984 for Excessive Force, Police Brutality, False Arrest, Malicious Prosecution, K-9 Maulings, Police Beatings and Shootings and Wrongful Death, Concealing or Destroying Evidence and Retaliation. Tel: (949) 474-1849.
The San Bernardino County Sheriff's Department is a brutal police agency that routinely uses excessive force on civilians, and falsely arrests and maliciously prosecutes their victims. Mr. Steering can help you.\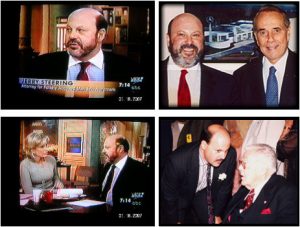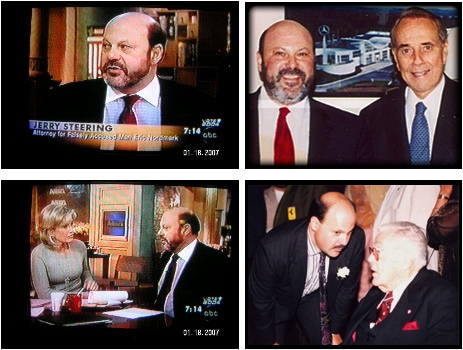 Law Office of Jerry L. Steering; 4063 Birch Street, Suite 100, Newport Beach, CA 92660; (949) 474-1849; jerrysteering@yahoo.com