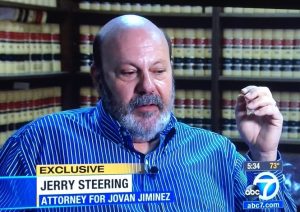 Riverside County Police Misconduct Attorney Jerry L. Steering sues police officers and defends bogus criminal resisting arrest and battery on peace officers cases. These "Contempt of Cop cases" are all too common these days as the courts have since 1968, case-by-case, allowed the police to have more and power.  The police can order you around and to do with you what they wish to at their whim.
THE SUPREME COURT HAS REPLACE OFFICER'S SAFETY FOR PROBABLE CAUSE IN FOURTH AMENDMENT JURISPRUDENCE.
The police used to need "probable cause" to believe that you committed a crime, to restrain or detain you in any way. Then, in Terry v. Ohio, 392 U.S. 1 (1968) the Supreme Court for the first time reduced the constitution's literal "probable cause" standard, to "reasonable suspicion of criminality affoot", to seize a civilian and search them. Since Terry , it's been all downhill. Terry , was really only, and was only intended to be a "stop and frisk" case. It only gave the police the right to detain someone, because they had reasonable suspicion that the person just commited, was committing or were about to commit a crime, and, that they knew of articulable facts to support a reasonable belief that the person was armed and dangerous.
JUSTICE'S DOUGLAS' WARNINGS IN HIS DISSENT IN TERRY HAS COME TO FRUITION. THE "LONG STEP DOWN THE TOTALITARIAN PATH."
If you give the police an inch they will take a mile. Although Terry was only a stop and frisk case, the courts quickly used Terry to justify detentions without any suspicion of the civilian being armed or dangerous. Thereafter, pointing guns at suspects, ordering them to the ground, handcuffing persons, using physical force or restraint on persons, became more and more common and accepted by the courts; again because of bad rulings in criminal suppression motion cases.
In his sole Dissent in Terry , Associate Justice William O. Douglas warned:
To give the police greater power than a magistrate is to take a long step down the totalitarian path. Perhaps such a step is desirable to cope with modern forms of lawlessness. But if it is taken, it should be the deliberate choice of the people through a constitutional amendment.[p39] Until the Fourth Amendment, which is closely allied with the Fifth,[n4] is rewritten, the person and the effects of the individual are beyond the reach of all government agencies until there are reasonable grounds to believe (probable cause) that a criminal venture has been launched or is about to be launched. . . 
. . . Yet if the individual is no longer to be sovereign, if the police can pick him up whenever they do not like the cut of his jib, if they can "seize" and "search" him in their discretion, we enter a new regime. The decision to enter it should be made only after a full debate by the people of this country.
TIMES HAVE CHANGED IN RIVERSIDE COUNTY.
These days, the Supreme Court had gutted basic Fourth Amendment "search & seizure" constitutional protections. They have done this because they don't want to suppress incriminating evidence in criminal cases. If the courts find that the police obtain evidence unconstitutionally, since 1961 the states must generally exclude that evidence at trial. See, Mapp v. Ohio,367 U.S. 643 (1961).
Society changes and so do legal standards; standards that even "originalist constitutional advocates" are too proud and to politically committed to their political jingle to admit that 99.9999999% of constitutional law is made up by the courts. The Bill of Rights was ratified by the states in 1791. There is no way that the Our Founding Fathers would have believed that the Sixth Amendment's "Right to Counsel" clause, to include the right to a government paid for free criminal defense lawyer (Public Defender) if you could not afford one. That right wasn't established under 1963 in Gideon v. Wainwright, 372 U.S. 335 (1963).
Thirty years ago of a police officer ordered another to prone out on the ground at gunpoint, that officer could not legally do so without having probable cause to believe that you committed a serious violent felony. These days they really don't need anything more than a bare suspicion of any sort of criminal conduct. That's why the police think that they can order you around and that your failure to immediately comply with their "lawful orders" deserves getting slammed to the ground and beaten, falsely arrested and falsely and maliciously criminally prosecuted.
THERE IS NO SUBSTITUTE FOR EXPERIENCE.
Riverside County Police Misconduct Attorney Jerry L. Steering is an expert in defending resisting arrest and battery on a peace officer criminal cases; those charges that the police procure your malicious prosecution for when they violate you (i.e. beat you) and you didn't commit a crime. Mr. Steering has also been using those bogus criminal prosecutions to sue the police, since 1984.
If you are the victim of police misconduct Riverside County Police Misconduct Attorney Jerry L. Steering can help you.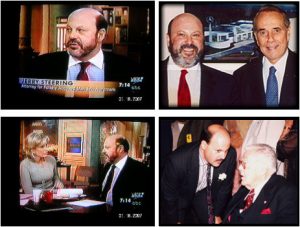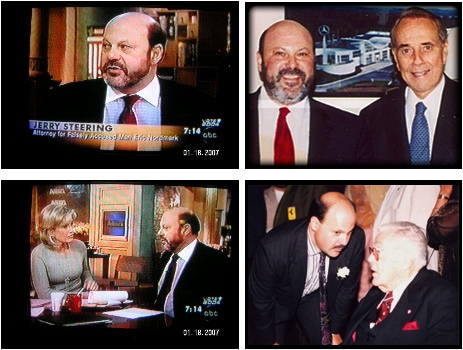 Riverside County Police Misconduct Attorney. Defending bogus Criminal Cases and Suing Police Officers for Violating your Constitutional Rights since 1984 for Excessive Force, Police Brutality, False Arrest, Malicious Prosecution, K-9 Maulings, Police Beatings and Shootings and Wrongful Death, Concealing or Destroying Evidence and Retaliation. Tel: (949) 474-1849; jerrysteering@yahoo.com
See our Home page for Mr. Steering's articles on police misconduct and constitutional law issues.
Serving the following cities:
AGUANGA

ANZA

BANNING

BEAUMONT

BLYTHE

CABAZON

CALIMESA

CATHEDRAL CITY

COACHELLA

CORONA

DESERT CENTER

HEMET

HOMELAND

IDYLLWILD

INDIAN WELLS

LA QUINTA

LAKE ELSINORE

MECCA

MENIFEE

MIRA LOMA

MORENO VALLEY

MOUNTAIN CENTER

NORCO

NORTH PALM SPRINGS

NUEVO

PALM DESERT

PALM SPRINGS

PERRIS

QUAIL VALLEY

RANCHO MIRAGE

RIVERSIDE

SAN JACINTO

SUN CITY

TEMECULA

THERMAL

THOUSAND PALMS

WHITEWATER

WILDOMAR

WINCHESTER