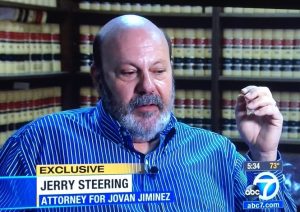 CRIMINAL LAW PRACTICE: Banking  and Financial
Jerry L. Steering has been practicing criminal law since 1984 (in California since 1986.)
Mr. Steering is an expert in defending your bogus criminal action, in a way to best protect and enhance your ability to ultimately obtain some justice; reasonable compensation and redress, for your police beating; for your false arrest; for your unlawful search and seizure; for your malicious criminal prosecution; and for what's usually at the center of all of the above, the exercise of our right to freedom of speech, and to complain to public officers, about misconduct by them or others, under the First Amendment to the United States Constitution.
Criminal Defense Specialties:

Assault and Battery
Battery on Officer
Domestic Violence
Drug Possession
Drug Manufacturing

DUI
Murder
Manslaughter
Resisting Arrest
Sex-offender Registration

Theft and Embezzlement
Towing Industry
Violation of Court Order
White-collar Investor Fraud
One substantial advantage that Mr. Steering can provide you, is a better chance at obtaining favorable evidence, to either leverage a favorable plea agreement, or flat-out win your criminal case, when you couldn't otherwise do so. If you don't sue police officers, you simply don't know what types of evidence is "out there" (i.e. in the possession of police agencies.) Because pre-trial discovery is extremely limited in California state court criminal prosecutions, most lawyers who only practice criminal law will not have an opportunity to even find out what types of evidence is available. The type of evidence that can exonerate you, and can show that the Constable is not telling the truth. There are hundreds of different types of evidence that lawyers who only practice criminal law, usually do not know the existence of. For example, if you're presently being represented by a criminal lawyer, make sure, they get the minimal types of "discovery", that is available from various police agencies; most of which is "available", only for a certain amount of time.