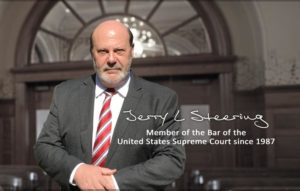 Jerry L. Steering, is a Police Misconduct Attorney & Specialist in San Diego County , California. Police Misconduct Cases are very complex and take many years of experience for a lawyer to navigate the legal landscape and end-up at the intended destination. It takes an experience Police Misconduct Attorney to properly and successfully defend a bogus criminal resisting arrest and battery on a peace officer criminal case, and to litigate such a criminal case in a manner that will substantially increase the probability of thereafter successfully suing the police for their constitutional violations and outrages perpetrated against you. Especially in San Diego you are the victim of police misconduct you need a Police Misconduct Attorney & Specialist to represent you
NOTHING LIKE EXPERIENCE.

Mr. Steering has been suing the police in San Diego County for many years now. The San Diego County Sheriff's Department has "dragnet" type bogus drunk in public sweeps that it uses to deter youthful bar patrons from even coming to cities like Encinitas. Moreover, that agency is quite brutal; often resorting to high level violence against the public as a first resort.
PENETRATING THE INGRAINED BELIEF'S SYSTEM ON POLICE ABUSE.
Most good citizen types will not allow themselves to believe that police officers really do bad things to people who don't deserve it. This goes for most San Diegans have this belief system. Unfortunately, those people are living in a fantasy world; not the real world of San Diego County.
As the United States Supreme Court has been replacing the constitution's "probable cause" requirement with "officer's safety" concerns, the police have slowly but surely become your oppressors rather than your protectors. This is not liberal propaganda; it's reality. If it wasn't we would be out of business.
POLICE MISCONDUCT ATTORNEY & SPECIALIST.
If you are the victim of Police Misconduct, civil or criminal, we can help you. San Diego County Police Misconduct Attorney Jerry L. Steering; Specializing in Defending bogus Criminal Cases and Suing Police Officers for Violating your Constitutional Rights since 1984 for Excessive Force, Police Brutality, False Arrest, Malicious Prosecution, K-9 Maulings, Police Beatings & Shootings and Wrongful Death, Concealing or Destroying Evidence and Retaliation. Tel: (949) 474-1849.
See our Home Page for Mr. Steering's articles and treatises on Police Misconduct and Constitutional Law issues.
Serving the following cities:
San Marcos

Santee

Solana Beach

Vista