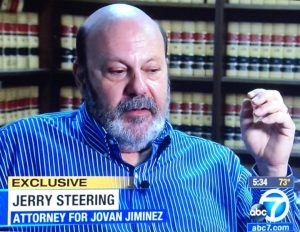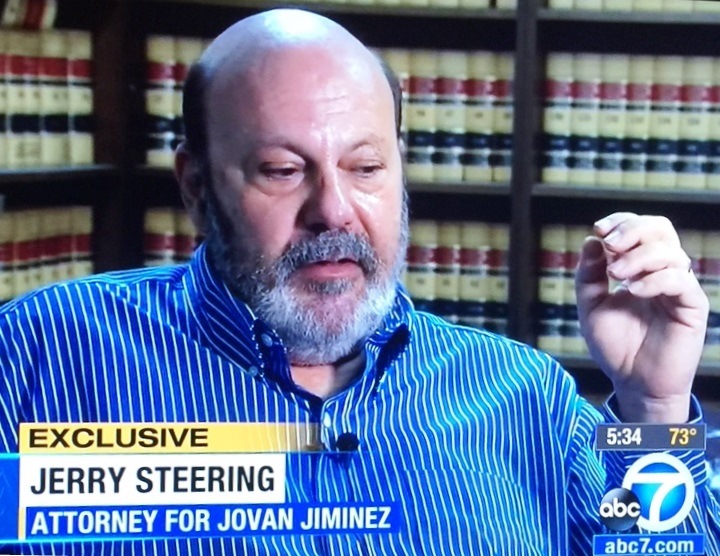 MR. STEERING'S NOTABLE LOS ANGELES COUNTY CASES.
Here are some of the awards that Mr. Steering has obtained in Los Angeles County:
Tualaulelei v. City of Compton, U.S. Dist. Court, Cent. Dist. of Cal. (L.A.) (1995), $6,000,000.00 for wrongful death police shooting in Compton, California;
Alvarez v. City of L.A., U.S. Dist. Court Central District of California (2004), $850,000.00 for false arrest, malicious prosecution and withholding exculpatory evidence;
Gallard v. City of Los Angeles, U.S. Dist. Court Cent. Dist. of Cal. (L.A.) (1998), $82,000.00 for wrongful eviction by LAPD officers;
Corugedo v. City of Los Angeles, U.S. Dist. Court Cent. Dist. of Cal. (L.A.)(2000), $100,000.00 for unlawful entry into home and seizure of minor;
Morales v. City of Bell Gardens, U.S. District Court Cent. Dist. Cal. (L.A.)(2003), $120,000.00 settlement for excessive force and false arrest; and
Thomas v. City of Gardena; U.S. District Court (Riverside) 2015; $292,495.00 for false arrest.
In re J.M.J.; U.S. District Court (Los Angeles) 2016; $225,000.00 settlement for first amendment retaliation (whistle blowing).
SOUTHERN CALIFORNIA IS BECOMING A POLICE STATE THAT NO ONES BELIEVES EXISTS UNTIL IT HAPPENS TO THEM.
This author has picked juries in federal court in downtown Los Angeles in plaintiff's civil rights cases against Los Angeles County Sheriff's Deputies and LAPD officers, during those times that the Sheriff of Los Angeles County, Lee Baca, was being criminally prosecuted for obstructing an FBI investigation into torture and beatings of inmates by deputies at the Los Angeles County Men' Central Jail.See, Ex-L.A. County Sheriff Lee Baca sentenced to three years in prison in jail corruption scandal, Los Angeles Times, May 12, 2017. This "obstruction" including changing or erasing inmate movement records and even having deputy sheriff's go to the home of a lady FBI agents home and threatening her with a bogus arrest for continuing her investigation into their outrages.
This author has also picked juries in federal court when the Undersheriff of Los Angeles County, Paul Tanaka, who was also the Mayor of Gardena, California, was on trial for obstructing an FBI investigation of the systemic routine beating and torturing of jail inmates at the L.A. County Men's Central Jail. See, Former top L.A. County sheriff's official given 5-year sentence for obstructing FBI probe, Los Angeles Times, June 27, 2016; Too Much Mr. Nice Guy: How Lee Baca Let Paul Tanaka Run Amok in County Jails, OC Weekly, December 13, 2012. See also, The Reign of Terror Ends at LA County Jails. ACLU, December 16, 2014.There were even news trucks lined-up and surrounding the old federal courthouse at 312. N. Spring Street, with their parabolic antennae prominently displayed during those trials. Those potential jurors who were arriving at the old federal courthouse could not have missed the presence of the media when they arrived there. The trials of the Los Angeles County Undersheriff Paul Tanaka and later of Sheriff Lee Baca were both on the front page of the Los Angeles Times and just about every other newspaper in the Los Angeles Metropolitan Region. The local radio and television news broadcasts often ran those trials as the first items on their broadcasts.Notwithstanding the above and foregoing, in the police misconduct civil rights case that this author was trying against Los Angeles County Sheriff's Department, 45 people were  been pre-qualified to serve on an eight person civil jury.  They were asked about any knowledge that they had about anything notorious or special going on with the Sheriff's Department now. 4 out of the 45 prospective jurors said that they had heard something, and 1 of them knew that the "something" was some sort of accusations against the Undersheriff. That one prospective juror did not know that the Undersheriff was being criminally prosecuted; prosecuted down the hallway from where this author's trial was being held.
A disappointed Mike Carona emerges from US Courthouse in Santa Ana following his sentencing to 5 1/2 years in prison and a fine of $125,000.
The same "phenomenon" took place when this author was trying an excessive force plaintiff's civil rights  case in the United States District Court in Santa Ana, California. The Sheriff of Orange County, Mike Carona, was being prosecuted by the feds for witness tampering in a federal grand jury investigation into the beating of inmates at the Orange County Jails. See, Ex-O.C. Sheriff Carona guilty on 1 count, cleared on 5, Los Angeles Times, January 17, 2009.
The point of all of this that the public has not the slightest idea of how police agencies really work, nor do they care. No one cares how they work until they are being rudely treated by some overzealous deputy sheriff of police officer who is literally looking to make a name for himself / herself as an active cop who makes lots of arrests. There are 10,000 sworn personnel with the Los Angeles County Sheriff's Department.If ten percent of them are out looking to have some fun, practicing their carotid restraint choke-hold, or fun practicing their five-on-one "defense tactics", that means that there are one-thousands very dangerous deputies looking to make some trouble. However, no one really believes any of this until it happens to them.
LOS ANGELES COUNTY POLICE MISCONDUCT IS RAMPANT BECAUSE THE PUBLIC CARES NOT; UNTIL IT HAPPENS TO THEM OR A LOVED ONE.
The Los Angeles Police Departments (LAPD's) motto is "We're the badest gang in town". This motto was best exemplified by one of the worst scandals in LAPD history; the Rampart Scandal. See, Los Angeles Police Department Board Of Inquiry Into The Rampart Area. See also, Rampart scandal, Encyclopedia Britannica; Guilty Plea In LAPD Scandal, CBS News, December 17, 2001.
The Rampart scandal refers to widespread police corruption in the Community Resources Against Street Hoodlums (CRASH) anti-gang unit of the LAPD's Rampart Division in the late 1990s. More than 70 police officers either assigned to or associated with the Rampart CRASH unit were implicated in some form of misconduct, making it one of the most widespread cases of documented police corruption in United States history, responsible for a long list of offenses including unprovoked shootings, unprovoked beatings, planting of false evidence, stealing and dealing narcotics, bank robbery, perjury, and the covering up of evidence of these activities.
The Rampart investigation, based mainly on statements of admitted corrupt CRASH officer Rafael Pérez, initially implicated over 70 officers of wrongdoing. Of those officers, enough evidence was found to bring 58 before an internal administrative board. However, only 24 were actually found to have committed any wrongdoing, with 12 given suspensions of various lengths, Seven officers were forced into resignation or retirement, and 5 terminated.
As a result of the probe into falsified evidence and police perjury, 106 prior criminal convictions were overturned. The scandal resulted in more than 140 civil lawsuits against the city of Los Angeles, California, costing the city an estimated $125 million in settlements.
A recent study of the Los Angeles Sheriffs Department (LASD) that was commissioned by the Los Angeles County Board of Supervisors ("Report of the Citizens Commission on Jail Violence") actually found that there is a culture within the Los Angeles Sheriffs Department of various "gangs of officers", who routinely beat, torture, maim and kill members of the jails, and of the community, for fun; for the honor of the gang. Everybody is a scumbag, and have no rights.
One of those gangs was "the Vikings", whose "colors" was the Minnesota Vikings Football Team logo tattooed on their lower legs. The Former Undersheriff, Paul Tanaka, was a Viking gang member when he was a Captain at the Lynwood Sheriff's Station. The Vikings were found by United States District Judge Jesse Curits to be a Neo-Nazi / White Supremacist gang within the ranks of the Los Angles County Sheriff's Department; See, Thomas v. County of Los Angeles, et al; 978 F.2d 504 (1992).
Some of the LASD gangs of these gangster deputies are: The 3000 Club (the deputies who worked the third floor of the L.A. County Men's Central Jail), The Grim Reapers, The Little Devils, The Regulators, The Vikings and The Jump Out Boys. After the FBI had announced that it had infiltrated the Los Angeles County jail and can now prove that the LASD Men's Jail was essentially a torture chamber, with gangs of sick and sadistic guards, Paul Tanaka still showed his grit, as an LASD "gansta", by addressing the command staff of the sheriff's department, about the LASD internal affairs bureau. He mentioned that their were 45 LASD Internal Affairs Bureau investigators, and that was 44 too many (you're got to have at least one to have a bureau.)
In 2014, six LASD Deputy Sheriffs were convicted of obstructing the FBI's investigation of the torturing of prisoners at the Los Angeles County Jails. That's not the end of it. Former LASD Deputy Sheriff Noel Womack pleaded guilty in June of 2015 to federal charges of lying to the FBI about systemic LASD torturing and framing of inmates at the Los Angeles County Jails.
One might think, why are these cops acting like Nazis; literally, not metaphorically? Why is this allowed to persist? Things have gotten so bad at the LASD that now the United States Department of Justice Indicted 18 LASD Deputy Sheriffs and their Supervisors on charges ranging from Obstruction of Justice and torturing prisoners. Moreover, Former Undersheriff Paul Tanaka, along with a retired LASD Captain, were indicted on May 13, 2015 by a federal Grand Jury for Obstructing and Conspiring to Obstruct a federal Grand Jury investigation of the rampant torturing of inmates at the Los Angeles County Jail (See, Paul Tanaka Indictment of May 13, 2015.)
Those Indictments also resulted in the resignation of Los Angeles County Sheriff Lee Baca, as Tanaka implicated Baca as having approved the LASD scheme to thwart the FBI investigation of tortures, beatings and murders of inmates by deputies at the L.A. County Jails.
On February 10, 2016, former Los Angeles County Sheriff Lee Baca pleaded guilty to violation of 18 U.S.C. § 1001(a)(2); lying to FBI agents and federal prosecutors investigating the beatings of inmates and visitors at the Los Angeles County Jails. As part of a surprise plea deal with the U.S. attorney's office, Sheriff Baca admitted that he took an active role in trying to stymie the federal probe into his deputies routinely beating and torturing inmates at the Los Angeles County Jails and in having his deputies hide an FBI informant – jail inmate from his FBI handlers. He admitted  even approving a team of his deputy sheriff's attempting to interfere with the government's investigation by threatening an FBI agent at her home with arrest.
LASD Undersheriff Paul Tanaka following his conviction for obstruction of federal investigation
Thereafter, on April 6, 2016, former LASD Undersheriff was convicted by a jury of  violation of 18 U.S.C. § 371 (conspiring to obstruct justice) and 18 U.S.C. § 1503(a) (obstructing justice), for not only obstructing an FBI investigation into years of beatings and torturing of inmates at the L.A. County Jail, but also Tanaka and other high ranking Sheriff's Department officials threatening one of the FBI agents involved in that investigation, with arrest for continuing that investigation. In his trial, Tanaka admitted that he still had the Minnesota Vikings Logo tattoo on his leg; a tattoo that he described as a member in a club; the "Vikings"; a tatoo that the federal courts have held is the gang taoo for a "neo-Nazi white supremacists gang within the Los Angeles County Sheriff's Department. See, Thomas v. County of Los Angeles, 978 F.2d 504 (1992).
Thereafter, on July 18, 2016, United States District Judge Percy Anderson threw out a plea agreement that would have given former Los Angeles County Sheriff Lee Baca a maximum of six months in prison, saying the sentence was too lenient considering Baca's role in obstructing an FBI investigation into the county jails. Addressing a downtown courtroom packed with Baca's supporters, U.S. District Court Judge Percy Anderson said the deal "would trivialize the seriousness of the offenses … the need for a just punishment [and] the need to deter others."
On December 19, 2016 a mistrial was declared in that federal criminal corruption case against Sheriff Lee Baca. During the two-week trial, prosecutors from the U.S. attorney's office tried to convince jurors that Baca had played a central role in a scheme carried out by a group of subordinates to thwart an FBI investigation into abuses and corruption by sheriff's deputies working as jailers. Baca's lawyers countered he had been unaware of the ploy unfolding beneath him. The panel deliberated for days, with all but one of the 12 jurors ultimately voting to acquit Baca. After the panel announced it was deadlocked, Anderson declared the mistrial.
On January 10, 2017, federal prosecutors announced that they would retry Sheriff Baca. Judge Percy Anderson also granted a request by the U.S. attorney's office to allow prosecutors to include the charge of making false statements to federal authorities in the retrial. U.S. District Judge Percy Anderson previously split that charge from the obstruction and conspiracy charges Baca faced at his first trial.
Lee Baca following his conviction for obstructing the FBI's investigation of deputy beatings at the Los Angeles County jails.
On March 16, 2017 Sheriff Lee Baca was convicted for his role in a scheme to block an FBI investigation into mistreatment of inmates in his jails.
Nonetheless, the body politic tolerates the existence, and the perpetuation of an ongoing unwritten agreement among and between peace officers, to falsely report, and, if necessary, to thereafter conspire with officers who they may not yet even know, to falsely testify, about event(s), if the potential or apparent criminal, administrative and civil liability of a fellow officer is at stake. After all, in the primary category of cases that truly are "false arrests" in the most malevolent sense of the word, "Contempt of Cop cases", the only reason that there's an arrest of a civilian at all, is because the Constable has violated another (i.e. beaten-up / torture); usually to self-medicate rather frail and easily bruise-able egos.
Mr. Steering has been suing police officers, and defending bogus criminal cases of crimes against police officers, since 1984. The majority of our firm's law practice, is suing police officers and other government officials, for claims such as false arrest, police brutality / excessive force, malicious prosecution, and other "Constitutional Torts", and defending bogus criminal cases against the victims of such abuse by the police; almost always for the same incident that the civilian – victim sues for.