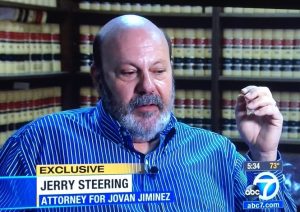 GENERAL CRIMINAL AND CIVIL RIGHTS PRACTICE.
Jerry L. Steering has been practicing criminal law since 1984 (in California since 1986.) He has tried and otherwise litigated hundreds of criminal cases, including murder cases, manslaughter cases, assault and battery cases, drug possession and drug manufacturing cases, DUI cases, vehicular homicide cases, white-collar investor fraud cases, mail fraud cases, sex-offender or drug offender registration cases, domestic violence cases, theft and embezzlement cases, towing industry cases, and the general spectrum of criminal violations. However, the overwhelming majority of Mr. Steering's criminal law practice involves the defense of bogus criminal prosecutions for "resistance offenses" (i.e. resisting / delaying peace officer, battery on peace officer.) Unlike other areas of criminal law practice, almost every one of Mr. Steering's resistance offense criminal case clients were factually and actually innocent.
Mr. Steering is an expert in defending your bogus criminal action, in a way to best protect, and to enhance, your ability to ultimately obtain some justice; reasonable compensation and redress, for your police beating, for your false arrest, for your unlawful search and seizure, and for your malicious criminal prosecution.
One substantial advantage that Mr. Steering can provide you, is a better chance at obtaining favorable evidence, to either leverage a favorable plea agreement, or flat-out win your criminal case, when you couldn't otherwise do so. If you don't sue police officers, you simply don't know what types of evidence is "out there" (i.e. in the possession of police agencies.) Because pre-trial discovery is extremely limited in California state court criminal prosecutions, most lawyers who only practice criminal law will not have an opportunity to even find out what types of evidence is available. The type of evidence that can exonerate you, and that shows that the Constable is not telling the truth.
We have enough diligence and experience to nail the cops down on their stories in these criminal actions, that simply cannot be done in a regular civil action. When they're on the stand in a criminal case, the cops don't have their experienced civil lawyers to take them out in the hallway and tell them what to say, like they do in civil cases. Moreover, the Deputy District Attorneys who prosecute these bogus "Contempt of Cop" cases, don't know enough, and often don't care enough, about the intricacies of the Constitutional, legal and evidentiary issues, that are being somehow dealt with in the criminal case, that will have a marked effect on your prospects for redress for your being framed; a substantial monetary recovery; the only "redress" presently available to victims of Constitutional Torts.
In other words, we use the bogus criminal case, to shape the evidence and the primary "swing issues" in that case, to not only win your bogus criminal case, but to also dramatically improve the odds of your ultimately prevailing on your civil First Amendment retaliation claims, and Fourth Amendment unreasonable force, false arrest and malicious prosecution claims.
If you want to know what do to if you've been falsely arrested, retaliated against for exercise of your constitutional rights, beaten-up by the police or maliciously prosecuted, please contact us at (949) 474-1849 or  jerrysteering@yahoo.com. Thank you for visiting with us, and best of luck. Even if you have a legal question that's important to you, and you just need lawyer input, we'll be glad to answer your questions.
Thank you again for visiting with us.
Jerry L. Steering, Esq.
What to Do If You Have Been Falsely Arrested or Beaten-up by the Police – Click Here
Jerry L. Steering with Diane Sawyer,  Co-counsel* Bob Dole,
and former partner** Melvin M. Belli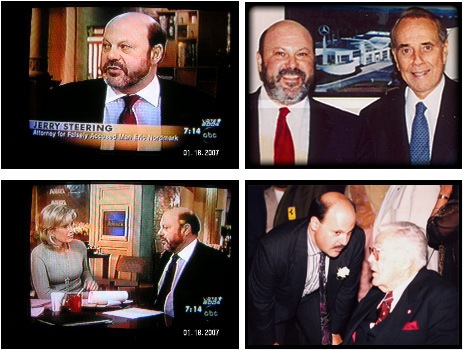 Suing Bad Cops
Defending Bogus Criminal
Cases Since 1984
Law Office of Jerry L. Steering, 4063 Birch Street, Suite 100, Newport Beach, CA 92660; (949) 474-1849; (949) 474-1883; jerrysteering@yahoo.com
***The State Bar of California does not recognize a specialty in police misconduct
which is most of Mr. Steering's law practice.
*In the District of Columbia only.
**In Beverly Hills Office only.