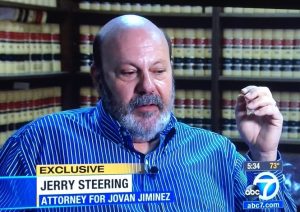 CRIMINAL DEFENSE LAWYER  |  Jerry L. Steering Esq
 DON'T GET FRAMED, GET PAID FOR EXCESSIVE FORCE, FALSE ARREST AND  MALICIOUS PROSECUTION.

Mr. Steering has been practicing criminal law since 1984 (in California since 1986.) He has tried and otherwise litigated hundreds of criminal cases, including murder cases, manslaughter cases, assault and battery cases, drug possession and drug manufacturing cases, DUI cases, Vehicular homicide cases, white-collar investor fraud cases, sex-offender or drug offender registration cases, violation of court order cases, domestic violence cases, theft and embezzlement cases, towing industry cases, and the general spectrum of criminal violations.
Moreover, Mr. Steering is a Specialist in Police Misconduct Cases, including defending bogus criminal cases for Resisting Arrest (Cal. Penal Code § 148(a)(1)), Battery on Peace Officer (Cal. Penal Code  § 242/243(b)) and Using or Threatening Violence to Prevent Public Officer from Performing Duties (Cal. Penal Code  § 69). Available 24 hours a day at (949) 474-1849.
Criminal Defense Specialties

Battery on Officer
Violence to Prevent Officer from Performing Duties
Criminal Threats
Domestic Violence
Resisting Arrest (resisting / obstructing delaying officer)

Drug Manufacturing
Drug Sales
Drug Possession
DUI
Murder
Manslaughter
Sex-offender Registratio

Theft Offenses
White-collar Investor Fraud
Violation of Court Order
Assault & Battery
Mayhem
Violation of Court Orde
Mail Fraud / Wire Fraud