Jerry L. Steering has been practicing criminal law since 1984 (in California since 1986.)
He has tried and otherwise litigated hundreds of criminal cases, including murder cases, manslaughter cases, assault and battery cases, drug possession and drug manufacturing cases, DUI cases, Vehicular homicide cases, white-collar investor fraud cases, sex-offender or drug offender registration cases, violation of court order cases, domestic violence cases, theft and embezzlement cases, towing industry cases, and the general spectrum of criminal violations. Mr. Steering's law practice involves representing persons in Orange County, Los Angeles County, San Diego County, Riverside County, San Bernardino County, Ventura County and other place throughout California and the United States.
He is also a member of the State Bar of Georgia and has also litigated cases in Georgia, Alabama and the District of Columbia. He is an expert in police brutality / excessive force and false arrest cases, and has been litigating these cases since 1984.The great majority of Mr. Steering's law practice is devoted to defending bogus criminal cases against the victims of abuse by the police, and suing police officers and other government officials, for claims such as false arrest, police brutality / excessive force, malicious prosecution, and other "Constitutional Torts."
ANAHEIM CRIMINAL DEFENSE AND POLICE MISCONDUCT ATTORNEY.
Anaheim, California is rife with daily police outrages. As most police agencies do, if you give them an inch they will take a mile. Unfortunately, Anaheim Police Department officers often beat, shoot, tase, torture many innocents and other, often for career advancement and pure sadistic pleasure. This is not left propaganda. This is the sad reality of our times. After all, the police state isn't the police; it's the public. It's the public approval of police outrages by voting for police defendants in civil rights case, and by voting to convict true innocents based upon straight-up lies in court by police officers.
MR. STEERING AND THE ANAHEIM POLICE DEPARTMENT.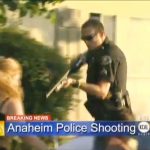 He has been involved in these types of cases involving Anaheim Police Department officers since 1986. Anaheim Police Department officers are quite adept in planting evidence to frame innocents, falsely arresting innocents and even killing innocents for many years now; all with impunity.
Anaheim is rather unbiased in their treatment of civilians. No matter your race, color or creed, all are treated equally poorly and oppressively. Anaheim police officers learn early on that they literally can beat, falsely arrest and procure the filing of a bogus criminal action against those whom they abuse. This not some lefty propaganda or overstatement of the state of our country. It is reality. Anaheim PD was the leading agency that literally created the Orange County Snitch Scandal; a massive scandal involving Anaheim PD and using illegal jailhouse informants to obtained confessions from inmates at the Orange County Jails. They used real life former Mexican Mafia gang members, who were inmates in the jail and on the City payroll, to literally coerce and scare inmates into making incriminating statements; confessions that were often false, made simply to avoid violence by the Mexican Mafia.
Some police officers can handle the awesome power over civilians, and some cannot. The Anaheim Police Department has its share of those who cannot. Ergo, here come I.
Oliver v. City of Anaheim, U.S. District Court, Santa Ana; Ninth Circuit Court of Appeals, 2012; (plaintiff won case in the Ninth Circuit Court of Appeals on their
unlawful arrest claim; false arrest as matter of law.) Plaintiffs obtained $400,000.00 for four hour false arrest of father (and son), for father telling police that he didn't know of his son hit a opossum with a shovel (which isn't a crime anyway),so busted the father for violation of Cal. Penal Code 32 (i.e. "accessory to crime", for not incriminating his son, for something that isn't a crime. See, Oliver v. City of Anaheim; Ninth Circuit Court of Appeals.
Mr. Steering has also had many acquittals in Orange County Superior Court; especially in cases involving false arrests.
Norma Cortez v. City of Anaheim; Mr. Steering also obtained $300,000.00 from the
City of Anaheim, for the use of police tactics that placed the plaintiff in a position of danger; a danger that did happen (i.e. non-lethal bystander gunshot wound); Norma Cortez et al. v. City of Anaheim, et al.; United States District Court for the Central District of California.
Mr. Steering also obtained $95,000.00 settlement for the seven minute long false arrest of an El Segundo Police Officer (Gregory Howden v. City of Anaheim.)
DEFENDING BOGUS "CONTEMPT OF COP" "RESISTANCE OFFENSE" CASES INVOLVING THE ANAHEIM POLICE DEPARTMENT.
Mr. Steering is an expert in defending your bogus criminal action, in a way to best protect and enhance your ability to ultimately obtain some justice; reasonable compensation and redress, for your police beating; for your false arrest; for your unlawful search and seizure; for your malicious criminal prosecution; and for what's usually at the center of all of the above, the exercise of our right to freedom of speech, and to complain to public officers, about misconduct by them or others, under the First Amendment to the United States Constitution.
One substantial advantage that Mr. Steering can provide you, is a better chance at obtaining favorable evidence, to either leverage a favorable plea agreement, or flat-out win your criminal case, when you couldn't otherwise do so.If you don't sue police officers, you simply don't know what types of evidence is "out there" (i.e. in the possession of police agencies.) Because pre-trial discovery is extremely limited in California state court criminal prosecutions, most lawyers who only practice criminal law will not have an opportunity to even find out what types of evidence is available. The type of evidence that can exonerate you, and can show that the Constable is not telling the truth.
Because Mr. Steering has been suing the Anaheim Police Department for many years now, he is familiar with Anaheim Police Department procedures, methods and the types of documents and recordings that are available to defend you in a criminal resistance case. There are hundreds of different types of evidence that lawyers who only practice criminal law, usually do not know the existence of. For example, if you're presently being represented by a criminal lawyer, make sure, they get the minimal types of "discovery", that is available from various police agencies; most of which is "available", only for a certain amount of time.
CRIMINAL DEFENSE OF "RESISTANCE OFFENSE" CASES:
Almost all "resistance offense" criminal cases are procured by the same police agency that perpetrated the very outrage complained of against the innocent civilian. These, "Contempt Of Cop" cases, typical involve the police using force upon persons (i.e. beating them) and/or falsely arresting them, and then inventing bogus allegations of violations various "Contempt Of Cop" statutes, such as violations of: 1) Cal. Penal Code § 148(a)(1) (resisting / obstructing / delaying peace officer; the most abused statute in the Penal Code; 2) Cal. Penal Code § 240/241(b) (assault on a peace officer); 3) Cal. Penal Code § 242 / 243(b) (battery on a peace officer); and 4) Cal. Penal Code § 69 (interfering with public officer via actual or threatened use of force or violence.) Cal. Penal Code § 69 is a "wobbler"; a California public offense that may be filed by the District Attorney's Office as either a felony or a misdemeanor.
This is done to shift the blame from the police officer to the beating victim (you, the innocent) for necessitating the use of force or other outrage. What the police and the prosecutors do is to charge you with committing some act that they claim is a crime and that somehow justified the police beating that you received. This is no joke. This is how the game works.
WHAT TO DO.
If you are being falsely prosecuted for an offense against an Anaheim Police Department Officer, or for any criminal action in which the police have committed misconduct, we can help.
If you would like a more detailed description of Civil Rights, False Arrest and Police Brutality lawsuits and criminal contempt of cops cases, see Anaheim Criminal Defense Attorney II.
Click on "Home", above, or the other pages shown, for the information or assistance that we can provide for you. If you need to speak with a lawyer about your particular legal situation, please call the Law Offices of Jerry L. Steering for a free telephone consultation. Also, if you have been the victim of a False Arrest or Excessive Force by a police officer, check our Section, above, entitled: "What To Do If You Have Been Beaten-Up Or False Arrested By The Police".
Thank you, and best of luck, whatever your needs.
Law Offices of Jerry L. Steering
Jerry L. Steering, Esq.
Thank you again for visiting with us.
Jerry L. Steering, Esq.
What to Do If You Have Been Falsely Arrested or Beaten-up by the Police – Click Here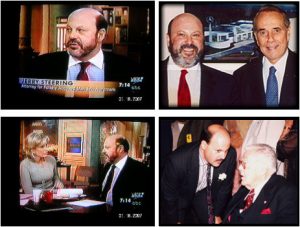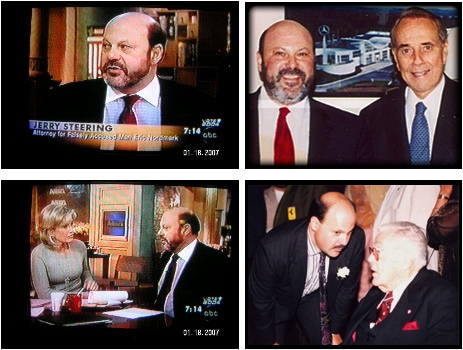 Jerry L. Steering with Diane Sawyer, Co-counsel* Bob Dole,
and former partner** Melvin M. Belli